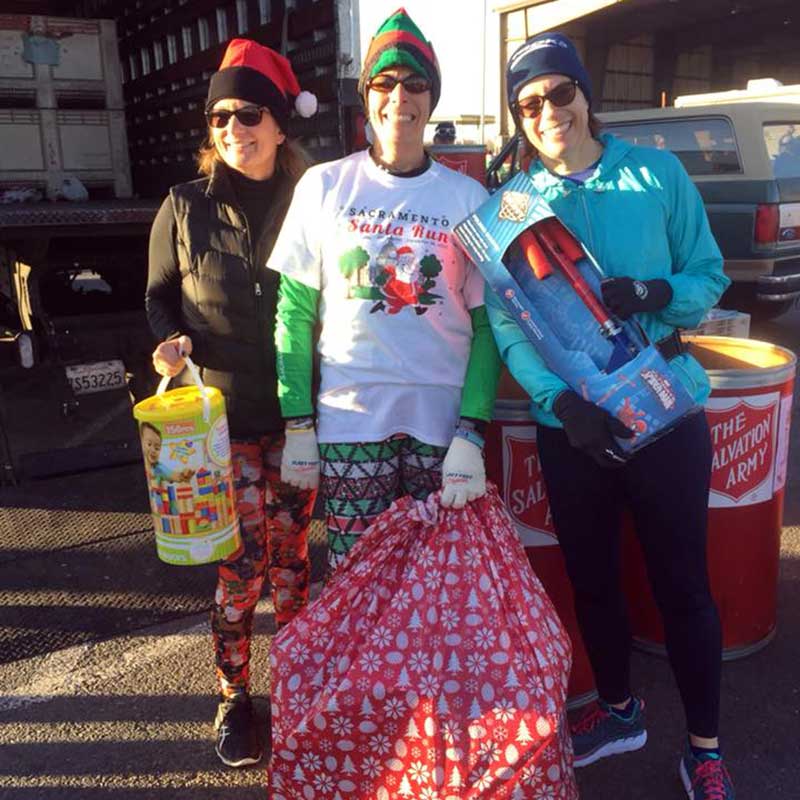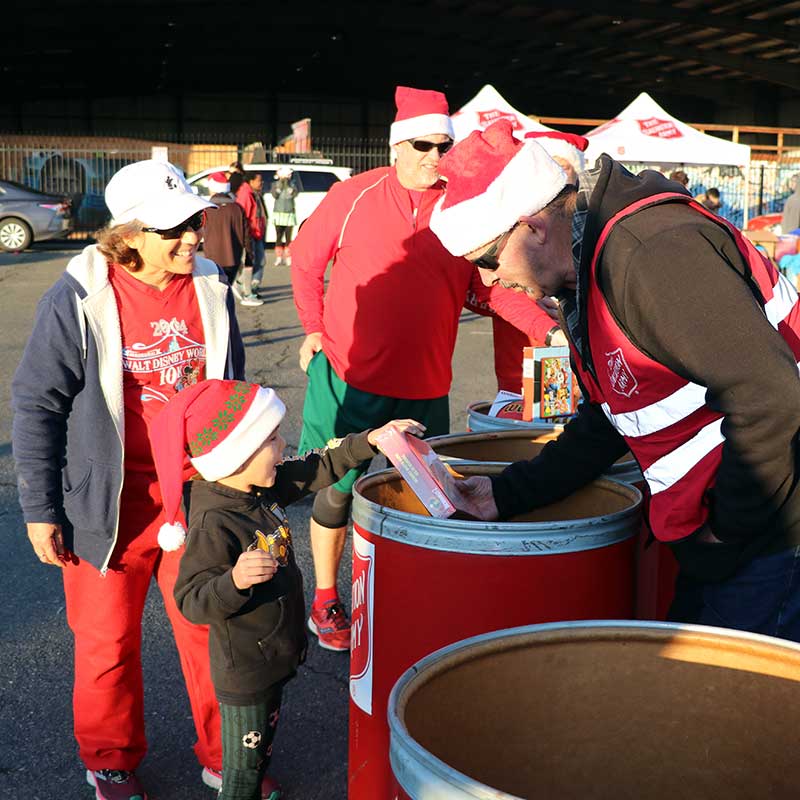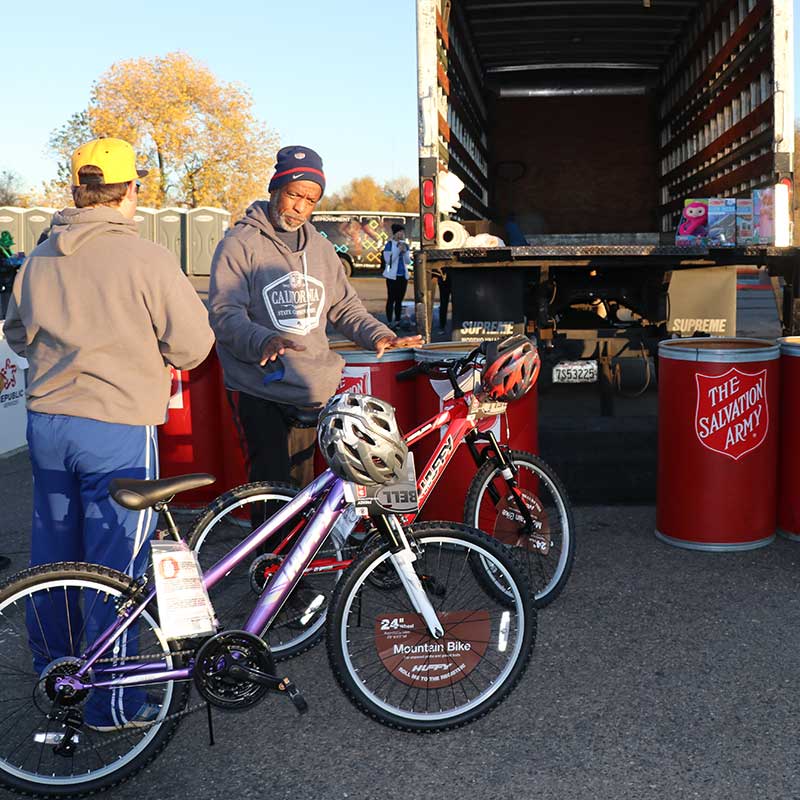 FLEET FEET
HOLIDAY CLASSIC
TOY DRIVE AND 5K
5K Run/Walk – December 10, 2023
(Rain or Shine)
Do all those cozy holiday gatherings make you sweat? Run for the chill of it! Join Fleet Feet Sacramento for our annual Holiday Classic Fun Run. The race is FREE. It's our gift to the running community. The race began as a lighthearted reason to gather for a run during the holiday season and has developed into a toy drive for the Salvation Army. We simply ask that when you come to the Holiday Classic you bring an unwrapped toy as a donation to the Salvation Army toy drive. They bring a huge truck—let's work together to fill it!!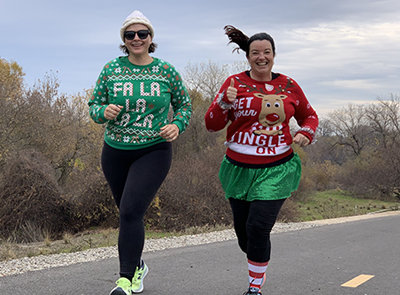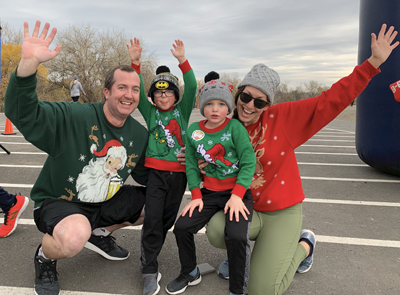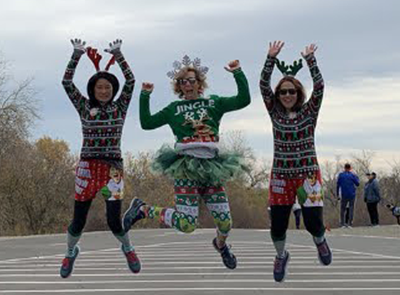 THE FLEET FEET HOLIDAY CLASSIC IS FREE!  The run starts at 9:00 am and since the race is short, it's usually over within 40 minutes. Finishers are greeted with a steamy cup of coffee or hot chocolate from the Salvation Army cantina that is onsite.This is just a fun run so there are no winners or losers. There aren't even any awards. There isn't even a race t-shirt unless you count the ones we give away that day from past races.The run will take place rain or shine.  It will probably be cold, but running with hundreds of people warms you up. Plus, everyone will be in winter running clothes some complete with Santa hats and red and green holiday attire. Registration takes place on-site at the race. There is no fee, we ask that you simply bring an unwrapped toy for the Salvation Army toy drive. All race participants need to sign a waiver race morning.
START & FINISH: The Start/Finish is located at Sutter's Landing Park at 28th & A Street (North of Railroad Tracks).
START TIME:  9:00 A.M. Registration opens at 8:00 a.m.
RACE REGISTRATION: There is no entry form and there is nothing to mail in.  Race morning, just come to Sutter's Landing, sign the waiver, and line-up at the start line.
T-SHIRTS: Yes, there are t-shirts available — we can't promise from what event!  Seriously, we have some shirts left over from our other events.  We'll bring them out and you are welcome to pick one you like!  All leftover shirts will be donated to the Salvation Army after the race.
AWARDS: There are no overall or age group awards for this event.
COURSE: The 5K course and Kids' 3/4 mile are both out and back on road and packed gravel along the American River.  This event is not officially timed, however, there will be a timing clock at the finish for you to record your own time.
DIRECTIONS & PARKING: Exit Business 80/Capital City Freeway westbound (from Roseville area) at E Street.  Turn right to 28th. Turn right on 28th to Park.Exit Business 80/Capital City Freeway eastbound (from Elk Grove area) at H Street.  Stay on 30th to E Street.  Turn left to 28th. Turn right on 28th to Park. Map here > > Plenty of free parking at or near Sutter's Landing Park. Follow the signs.
Please note for the safety of all participants no strollers or dogs will be allowed on the run course.